Holsters, belts, pouches & accessories.
Color-Matched Pouches
Duty Holsters
Duty Belts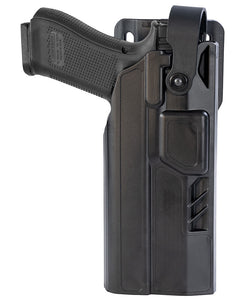 T.E.L.R. Holster
Thumb Activated Ejection Port Lock Retention
G&G's new T.E.L.R. Level 3 Duty Holster provides the security that you need with the speed that you demand. View details
Testimonials
The holster is rugged as hell.

Officer Mike Leverett, Head Firearms Instructor at Chicago PD
"Your holster saved my life! I was recently involved in an incident where an assailant attacked me from behind and made several attempts to extract my weapon out of its holster. I have a level 3 …holster and am an absolute believer, for obvious reasons , in the quality of the product. Due to the characteristics of your holster I was able to keep my weapon out of the hands of my attacker…. I will only buy Gould & Goodrich holsters from now on. To those that are looking for a good, quality holster I will give my highest recommendation to your products…"

E. F, Washington
"I just took delivery of the holster (K381) that I ordered. I am VERY impressed with the look and functionality… I have already sold another officer on it and he is in the process of ordering one from the distributor. Thanks for a great product line and as always I will continue to purchase Gould and Goodrich duty gear."

Sgt. Roy H.